Louvretec's External Aluminium Louvre Shutters are where durable style meets functional luxury. Innovative external shutters are designed to enhance the aesthetics and performance of your Australian home, offering a seamless blend of architectural elegance and practicality. Crafted from high-quality aluminium, these louvre shutters are engineered to stand up to the harshest weather conditions and coastal sea salt whilst elevating your property's appeal.
Enjoy the Perfect Balance of Light, Privacy, and Ventilation with Louvretec External Louvre Shutters
Add exceptional control over light, privacy, security and ventilation. Whether you're looking to secure your windows or add a touch of sophistication to the face of your home, our shutters are a versatile solution that can be customised to meet your unique requirements. With Louvretec, you can transform your property into a haven of comfort and beauty, all while enjoying the peace of mind that comes with our durable, expertly crafted aluminium shutters. Explore the possibilities today and discover how our Coastal Shutters can elevate your outdoor and indoor spaces to new heights.
Transform Your Outdoor Space with Louvretec Coastal Shutters
Revamp Your Outdoor Area with Louvretec Coastal Shutters
Create an additional space in your dwelling by bordering your deck or patio with louvre shutters or panels. With the Louvretec Coastal series, you have the opportunity to fit external aluminium shutters below your Adjustable Roof, enclosing your deck, patio, or veranda. Experience protection from sunlight while adding a layer of privacy and elegance to your space.

Our shutter collection can also function as an external window solution. They are crafted from aluminium, a material known for its durability, lightweight properties, and ease of maintenance - a simple wipe-down is all it takes!

Our extensive selection includes, but is not limited to:

- Sliding shutters
- Bifolding shutters
- Hinged Doors
- Plantation shutters
- Louvre panels

These are designed to seamlessly integrate with the exterior of the structure, equipped with top and bottom sliding mechanisms for effortless operation.
Automation & Engineering
Choose from Sliding, Bifolding, Hinged Shutter systems.
Top Hung or Bottom Rolling? Top Hung Shutters are held captive within the top track so a minimal bottom guide is only required. Bottom Rolling Shutters do not require structural fixing at the head with all the weight being on the bottom track making them easy to operate.
Louvre infills can be hand operated using the KISS Pivot system which has double drive arms that sit flush against the frame when the louvres are closed.
Features
Choose from either Sliding, Bifolding or Hinged Door options

Louvre infill options available including hand operable, bracket or end fixed louvres

Compatible with a range of Louvretec sun louvres

Coastal Series Shutters by Louvretec are designed to operate in the harshest of conditions

Manufactured from commercial grade powdercoated or anodised aluminium

Componentry has completed extensive corrosion resistant testing and are constructed using 300 series stainless steel

Coastal Series Shutters offers a premium range of shutters for a wide variety of applications.

St Clair Residence
Manor Park
"My favourite room in the house" Mandy St Cllair. Howick
Watch the video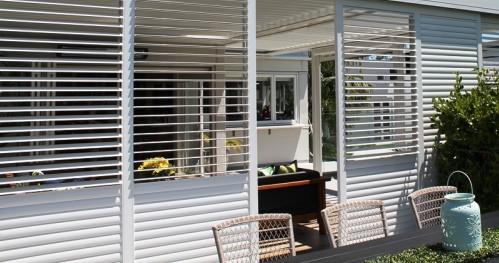 St Clair Residence
Manor Park
"My favourite room in the house" Mandy St Cllair. Howick
Watch the video