Opening Roofs connect and create welcome space in your home. Open your home up to the outdoors with a Louvretec Opening Roof.
Choose from 8 different styles of Louvre roof
including our new Retractable Opening Roofs which let you retract the louvre blades back if you wish to enjoy the sky above, or bring the louvres back in place for operable overhead shelter. Clever.
Made of aluminium they're also very durable - perfect for coastal living.
Opening Roof Frequently asked qustions:
What do Opening Roofs do?
An opening roof creates a functional outdoor room and typically sits above a deck, patio or verandah area.
The Louvre blades of an Opening Roof can be motorised or hand operable and can rotate up to 180 degrees. This lets you set and control conditions by opening and closing the louvres as you wish so you aren't limited to one or the other. Have a closed roof when you want a cosy outdoor living area, or open it up to feel the freshness of the day without feeling the full force of the sun.
What are Opening Roof Pergolas?
An Opening Roof Pergola is where an opening roof has been incorporated in to an existing timber pergola - we can work with your builder to do this.
How much is an Opening Roof?
The price of an Opening Roof varies depending on how large the roof will be, the style of opening roof you choose depending on your wind zone and your frame & post requirements. That's why price is on application.  Make an enquiry with Louvretec today to obtain a no obligation quotation. 
Discover more!
Do you currently avoid spending time on your deck, patio or veranda because the weather is unpredictable? Your Outdoor area is perfect for entertaining, especially when you're barbequing, and the kids are outside – but the weather can dampen the party or chase you inside because of the hot sun. Fortunately, with Louvretec Australia's extensive range of Opening Roofs, your verandah, patio and deck can be created in to a functional outdoor room - creating more space in your home to gather, relax or entertain.
Louvretec provides a clever range of opening/closing roofs for patios, louvre verandas and deck areas.
Introducing Louvretec's Retract Roofs - Louvretec's Retract Roofs have  the added benefit of being able to retract the louvre blades back when you want a clear view above and being able to bring them back overhead for adjustable cover. 
In addition to our Retractable Opening Roof is our Standard Opening Roof which includes your choice of 8 styles of Opening Roofs:
The Louvretec Opening Roof options include: 
Retract Roofs
Super Roofs
Classic Opening Roof
Translucent Opening Roof 
Suburban Direct Opening Roof 
Linear Opening Roofs 
Fall in love with your home all over again
Louvretec Australia's Opening Roof systems let you open up your home to the beauty of the outdoors, connect spaces in your home and create a functional outdoor room - a space that will become the new favourite room. The gathering spot. A place to relax, entertain or just take in the moment.
Louvretec Opening Roof louvre blades rotate open and close through to 180 degrees. which means that you can set the scene you're most comfortable with.
Louvretec Opening Roofs are available in many different powdercoated or anodised colours (even timber-look finishes).
Constructed of aluminium Louvretec Opening Roofs are durable and designed for Australia's harsh environment.
All Louvretec Installation teams are expertly trained to provide trustworthy service. 
At Louvretec, our deck roofing options are designed bring more space to your home and  add a clever, natural flow to the outdoors. Call us today to see more of our range – from retracting roof louvres to other Opening roof options for your deck.
Features
Choose from 8 styles of Opening Roofs to match your design and wind zone!

Opening Roof louvre blades rotate up to 180 degrees letting you stop at any point along the way.

Available in a wide range of powder coat, anodised and even woodgrain finishes and textures.

Louvretec Opening Roofs are available motorised or hand adjustable

Louvretec's award winning Spiral Pivot drive system moves the louvre blades

Installed by authorised Louvretec personnel

Louvretec Opening Roofs add function, design and balance to your home or building

Compatible with smart home operations.

D J Hewitt Builders Ltd own home
My home
"We love our Louvertec Roof. It gives me the best of both worlds. Shade or Sun and keeps us dry...& it looks Architectural as well. We have been using Louvretec systems for years in lots of our high end builds". Daryl Hewitt D J Hewitt Builders Ltd Christchurch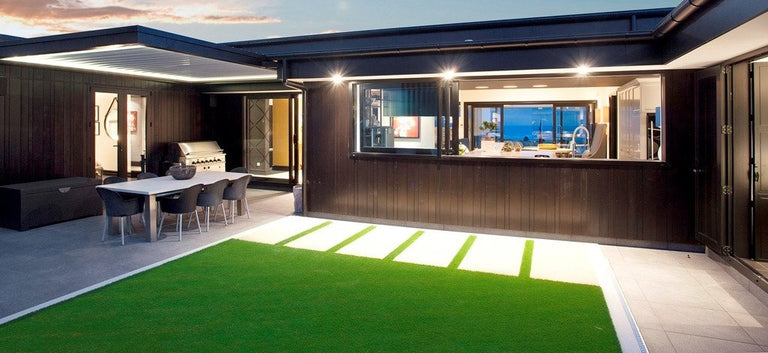 D J Hewitt Builders Ltd own home
My home
"We love our Louvertec Roof. It gives me the best of both worlds. Shade or Sun and keeps us dry...& it looks Architectural as well. We have been using Louvretec systems for years in lots of our high end builds". Daryl Hewitt D J Hewitt Builders Ltd Christchurch