Louvretec Australia's Custom Made range is all about taking our sun louvres and getting creative with them. GATES, FENCES, CHIMNEY COWLS, SCREENS & BALUSTRADES. Our product range has evolved thanks to the creative minds of architects and clients. Louvretec Australia custom make louvred gates, fences, chimney cowls, screens & balustrades all to your precise design requirements adding a specialised final touch to any project.
Louvretec Gates, fences and screens are available in many powdercoat or anodised colours. Click here to see.
Made of aluminium so they're durable too.
Features
Final finishing touches

Custom made to your imaginative requirements

Strong, stylish aesthetics

Can be architecturally designed or designed in-house by Louvretec Design Centre

Marine grade aluminium welding and stainless steel fittings are standard to the Custom Made range

Louvretec's range of louvre shapes & sizes, fixing systems and operating systems allow for a wide range of design options.

Louvretec is constantly working with imaginative people looking for a specilaised final touch to their project

Provide a distinctive statement to any architecture
Automation & Engineering
Gates can be Sliding or Hinged, for vehicles or for pedestrians.
Fences Runs of end fixed sun louvres work well as a fence. Creating a stunning divide for your property.
Screens can be motorised with Louvretec's award winning Spiral Pivot System, hand operable using Louvretec's KISS Pivot system or end or bracket fixed sun louvres.
Chimney Surrounds can be end fixed or bracket fixed sun louvres.
Ventilation louvres can be extruded shapes or custom designed panels. Vent louvres are used to provide screening to cooling towers, cooling to plant rooms, car parks, basement areas etc.
Louvre Balustrades by Louvretec comply with AU compliance requirements. Contact Louvretec for the most up to date requirements to these guidelines. Louvretec uses the 165 Hi-Span Balustrade Louvre for Australia.

Hibiscus Coast
Street appeal
"The entranceway to our home is important and my gates are the cherry on top" Mark Nelson. CBD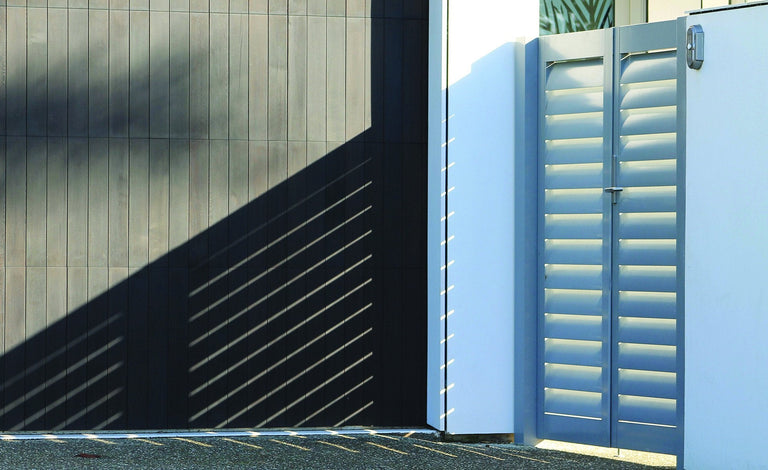 Hibiscus Coast
Street appeal
"The entranceway to our home is important and my gates are the cherry on top" Mark Nelson. CBD