Outdoor blinds bring your home, building and outdoor patio area welcomed shade control. Louvretec's Mesh shade or clear PVC Outdoor Blinds are available motorised (Mesh only) or hand operable. 
Louvretec is also excited to bring you the EV80 External Venetian Blind System by Evaya. This external venetian blind is capable of efficiently shading large expanses of glass while creating a most stylish aesthetic for your home or building.
What are the different types of outdoor blinds?
At Louvretec, we provide outdoor blinds to add to your outdoor room which come in mesh and clear PVC. This selection gives you multiple options to match whichever specific requirements you have. You can also decide between hand-operable, gear-driven or motorised functionality, to be able to control your outdoor blinds remotely.
Do outdoor blinds reduce cold
Yes, outdoor blinds find two ways to reduce cold. Firstly, both our mesh and PVC blinds offer protection from weather conditions, including drafts or strong winds. Secondly, they reduce cold by offering an additional layer of insulation. To help warm your home, you can allow direct sunlight to stream in during daylight hours and draw your blinds just prior to sunset to trap the heat inside. 
Do outdoor blinds stop rain?
For rain protection, we suggest our clear PVC blinds. These are the perfect solution for wet weather and provide wonderful protection from rain. As they're clear, they are better than mesh for maintaining an outside view when shut. Stopping rain and wind doesn't impact your ability to spot nature and enjoy the greenery of the outdoors by retaining your view. Mesh blinds when looked at closely are made up of small holes - and these holes do come in a range of sizes - the smaller the hole, the more rain protection. 
Are outdoor blinds worth it?
Once you have a unique Opening Roof installed by Louvretec on your patio or deck area often the next step is to fill in the sides.  That's exactly what our outdoor blinds offer. With a stylish design that disappears into the headbox when retracted, you can purchase blinds in a number of different colours, fabrics and features. These will be a great addition to any home.
Features
Mesh Blinds offer a large range of fabric colours

Powdercoated, aluminium frames

Available motorised, gear driven or manually raised

Perfect wall infill option

Mesh offers privacy & protection from weather & insects

Outdoor Blinds disappear in to a stylish head box when fully retracted

Mesh comes in varying degrees of openness

Mesh has better warranties than clear PVC due to heat expansion & cold contraction however PVC can be clearly seen through & Clear PVC provides excellent protection from driving wind & rain.
Automation & Engineering
Louvretec Australia's Outdoor Blinds are the perfect infill when you need to create a wall.
Your choice of motorised, gear driven on manually operable.
Mesh Outdoor Blinds comes in varying degrees of openness (openness is the little squares when you look  up close at the mesh), select depending on the degree of shelter, privacy & protection required.
Clear PVC Blinds by Louvretec Australia are actually available in different tints - not just clear! They provide excellent protection from wind & rain however because of heat expansion and then contraction in cold their warranty is less than Mesh Outdoor Blinds however Louvretec Australia PVC Blinds are premium compared to other outdoor blinds available on the market.

Cork Residence
My Home
"Our Mesh Shade Blinds have been the cherry on top for our renovation. They provide our family with privacy and protection from the weather - all at the touch of a button. I love the way they look. This outdoor area is where our family gravitates to - where we all gather." Leanne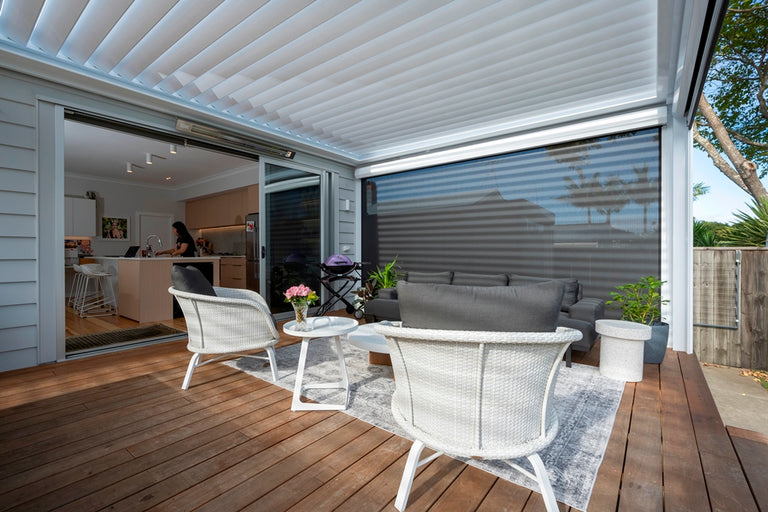 Cork Residence
My Home
"Our Mesh Shade Blinds have been the cherry on top for our renovation. They provide our family with privacy and protection from the weather - all at the touch of a button. I love the way they look. This outdoor area is where our family gravitates to - where we all gather." Leanne