Louvretec Australia's Rectangular range of Sun Louvre panels are a design alternative to conventional shaped louvre blades. Louvretec Australia was proud to be a part of a previous series of The Block TV Show which used this product.
Select from 15 rectangular louvre sizes starting from 95mm wide right through to the all new RL 600mm wide louvres with many more louvre sizes in between. Louvretec's new RL range is well suited when a 'heavy duty louvre with long spans' is required.
Louvretec Australia's standard Rectangular range is one of the most specified products in the product range.
Rectangular Sun Louvres are available motorised, hand operable, as an infill for a shutter, end fixed & bracket fixed.
Our Hi-Span Rectangular louvres include our 165 Hi Span blade which can be used as a balustrade when the blades are fixed in place.
Louvretec sun louvres are available in many powdercoat or anodised colours. Click here to see. 
Made of aluminium they're durable too.
Features
15 different Rectangular Louvre blades available to choose from

Rectangular louvres are available motorised, hand operable, end fixed or bracket fixed or as a shutter infill

The 165 Hi Span Louvre can be used as a balustrade when the blades are fixed in place

Louvretec's new range of rectangular louvres are heavy duty and achieve our highest spans yet

Clean, minimalistic lines

Fully engineered and certified for residential & commercial use

Easy to retrofit or incorporate to your build

Installed by Louvretec's in house installation team

Achieve privacy, security, wind and sun control

Customisable to meet your needs and home

Made of aluminium for durability

Available in a large range of colours including powdercoat or anodised finish

After sales care and service available
Automation & Engineering
Louvretec's Sun Louvre Rectangular range easily transform your home with the motorised shutter system. Take a look at our available motorised louvre, slider/shutter system, end fixed or bracket fixed Sun Louvre Rectangular system.
Spiral Pivot System - Motorised Our award-winning Spiral Pivot system can rotate the rectangular louvre blades up to 180 degrees || Modern design and can be hidden out of sight || The Spiral Pivot System is linked to a custom made box by a Somfy tubular motor || Can be used for manual hand operating rectangular panels
Maxi-Drive Pivot System - Motorised Operates the large RL 300, 450 and 600 Square and Mitre louvres || The Maxi-Drive is designed to power larger louvres || A custom made Somfy motor gearbox is located within the structural frame and operates the blade with heavy duty connecting arms for the louvre panels || Can be used for manual hand operating Maxi louvre panels
Hand Operable Drive Systems As well as hand operable Spiral Pivot system, the rectangular sun louvres in 95mm Bella Vista and 95mm Bella Vista Heavy are available as manual hand operable using the KISS Pivot system || KISS Pivot system can operate a number of rectangular blades using double drive-arms that can be locked closed or in various positions
Hi-Span Balustrade Our 165 Hi-Span Louvre can be designed as a balustrade when the blades are fixed in place.
End Fixed Louvres All of our Louvretec sun louvres can have the ends fixed and internal screw fixing ports which allow the blades to be end fixed at any pitch || Can be used for vertical louvre panels or overhead panels
Bracket Fixed Louvres
All Louvretec sun louvres can be bracket fixed using Louvretec's proprietary bracket fixing systems / Die cast or extruded brackets are custom made site specific / Used for vertical louvre panels or overhead louvre panels
Slider or Shutter Infills The mid-sized Rectangular louvres are the perfect shutter infills especially the 150mm Helena Bay blade and 95mm Bella Vista and 95mm Bella Vista Heavy blades

Scott Jury. principal. Jurado Architects
Red Beach Rectangular Louvres
"The rectangular sun louvres I specified in this installation were ideal in providing my client with a controllable outdoor living space. The sun louvres let my client control light, shade, privacy and airflow". Scott Jury. Principal Architect. Jurado Architects Ltd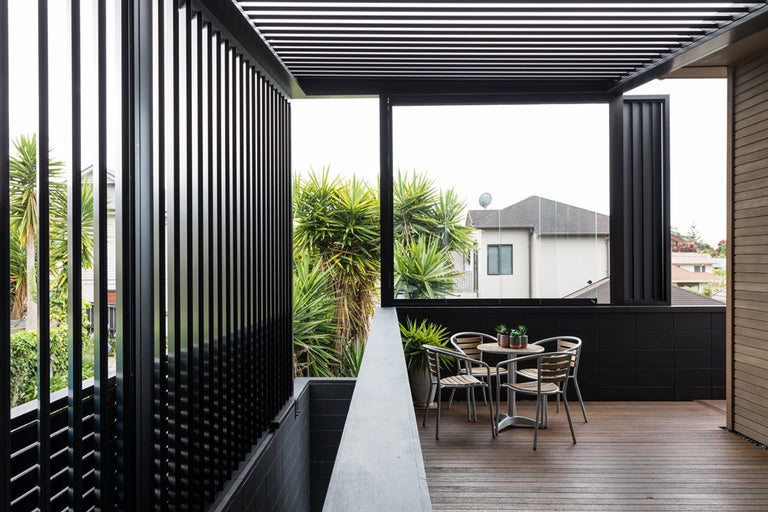 Scott Jury. principal. Jurado Architects
Red Beach Rectangular Louvres
"The rectangular sun louvres I specified in this installation were ideal in providing my client with a controllable outdoor living space. The sun louvres let my client control light, shade, privacy and airflow". Scott Jury. Principal Architect. Jurado Architects Ltd